This page needs serious attention!
---
This article does not currently meet the standards set at
Park Pedia: The Jurassic Park Wiki. Please feel free to edit it, and pose any
questions you might have on the article's talk page.
Styxosaurus was added to the Aquatic Park of Jurassic World: The Game on December 11, 2015 as a legendary surface creature.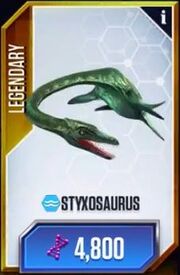 Information
Edit
Styxosaurus is unlocked by completing its battle event. Additional individuals can be purchased in the market for 4,800 DNA or found through card packs.
Cost and Time to Hatch
Availability
Legendary
Incubation Period
107:00:00
Placement Cost
4,800 DNA
Selling Reward
2,400 DNA
Maximum Earning Rate
215.04 Gold/Minute
Additional Information
Styxosaurus
Appearance
Edit
Unlocked Trivia
Edit
Reward: 
"The Styxosaurus is named after the River Styx that, in Greek mythology, separated the land of the living from that of the dead."
Reward: 29,330 Food
"
Reward: 100 Cash and 134,400 Food
"
Reward: 100 Cash, 568,035 Food, and 384 DNA
"
Level-Based Stats
Edit
Level
Unmodified Earning Rates
(12 Hours)
Feeding Costs
Life
Attack
1
484
692 (5x = 3,460)
431
73
2
968
1,364 (5x = 6,820)
455
77
3
1,452
2,055 (5x = 10,275)
479
81
4
1,936
2,727 (5x = 13,635)
503
85
5
2,420
3,418 (5x = 17,090)
527
89
6
2,904
4,090 (5x = 20,450)
551
93
7
3,387
4,781 (5x = 23,905)
575
97
8
3,871
5,453 (5x = 27,265)
599
101
9
4,355
6,144 (5x = 30,720)
623
105
10
4,839
Evolve (02:00:00 @ 70 DNA)
647
109
11
10,645
5,866 (5x = 29,330)
839
141
12
11,613
6,404 (5x = 32,020)
869
146
13
12,580
6,941 (5x = 34,705)
899
151
14
13,548
7,460 (5x = 37,300)
929
156
15
14,516
7,988 (5x = 39,940)
958
161
16
15,483
8,525 (5x = 42,625)
988
166
17
16,451
9,063 (5x = 45,315)
1,018
171
18
17,419
9,591 (5x = 47,955)
1,048
176
19
18,386
10,128 (5x = 50,640)
1,078
181
20
19,354
Evolve (04:00:00 @ 80 DNA)
1,108
186
21
40,643
16,925 (5x = 84,625)
1,366
230
22
42,578
17,712 (5x = 88,560)
1,402
236
23
44,514
18,548 (5x = 92,740)
1,438
242
24
46,449
19,335 (5x = 96,675)
1,474
248
25
48,384
20,160 (5x = 100,800)
1,510
254
26
50,320
20,948 (5x = 104,740)
1,546
260
27
52,255
21,754 (5x = 108,770)
1,581
266
28
54,191
22,560 (5x = 112,800)
1,617
272
29
56,126
23,367 (5x = 116,835)
1,653
278
30
58,061
Evolve (08:00:00 @ 90 DNA)
1,689
284
31
(5x = )
32
(5x = )
33
(5x = )
34
(5x = )
35
(5x = )
36
(5x = )
37
(5x = )
38
(5x = )
39
(5x = )
40
MAX