T. rex: Hunter or Scavenger? (Jurassic World)
Talk

0
Share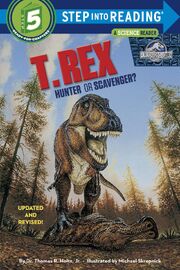 T. rex: Hunter or Scavenger? (Jurassic World) is a popular science book written by Dr. Thomas R. Holtz, Jr. that discusses the question: Was Tyrannosaurus rex a speedy and savage hunter, or was it a slow-moving scavenger, surviving on scraps left from other dinosaurs' kills? The world renowned tyrannosaur expert shares the evidence on both sides of the argument in this easy-to-read, easy-to-understand Step into Reading book that young dinosaur enthusiasts will heartily devour.
Holtz published a similar book in 2003. The cover art and overall structure of the two books are identical. However, the cover says that this new edition is "updated and revised".
Reception
Edit
Paleontologist Dr. Robert Bakker called it the "best kid rex book ever done."[1]
External links
Edit
References
Edit
↑ T. Rex: Hunter or Savenger? (Jurassic World) (Step into Reading) [Kindle Edition] (2015, March). Retrieved from http://www.amazon.com/T-Rex-Savenger-Jurassic-Reading-ebook/dp/B00TCI29V4/ref=sr_1_1?s=books&ie=UTF8&qid=1426086222&sr=1-1&keywords=T.+Rex%3A+Hunter+or+Scavenger%3F
Ad blocker interference detected!
Wikia is a free-to-use site that makes money from advertising. We have a modified experience for viewers using ad blockers

Wikia is not accessible if you've made further modifications. Remove the custom ad blocker rule(s) and the page will load as expected.