"Get as close as you dare to our most fearsome attraction."
—Park map(src)

T. rex Kingdom
, code named
Paddock 9
, was the enclosure for the
Tyrannosaurus rex
 who was originally created for the failed
Jurassic Park
, in the
Jurassic World park
on 
Isla Nublar
. It is one of the park's most popular attractions. Feeding is every two hours. They feed her goats and attract her with flares so guests can see her eat in a log-like viewing area for safety and a good view. Visitors can also choose to view her in an upper seating area at the top of the arena.
[1]
Visitors can assist in the feeding of the
Tyrannosaurus
by purchasing the Adrenaline Package or possibly the Apex Predator Package. 
Behind The Scenes
Edit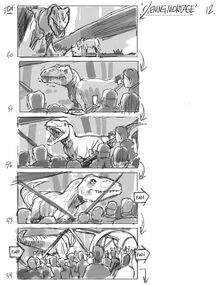 In the storyboard of Jurassic World, the T. rex Kingdom scene showed the T. rex eating the goat in plain view. The exhibit's background seems to be based on the conifer forests of Isla Sorna.[2]
References
Edit
↑ davelowerystoryboards - Jurassic World (July 31, 2015) Retrieved from http://dlstoryboards.blogspot.com/2015/07/jurassic-world_31.html