This page needs serious attention!
---
This article does not currently meet the standards set at
Park Pedia: The Jurassic Park Wiki. Please feel free to edit it, and pose any
questions you might have on the article's talk page.

Tapejalosaurus appears as a creatable hybrid in Jurassic World: The Game.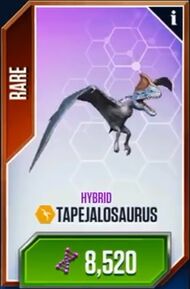 Information
Edit
It is unlocked in the market by fusing a level 40 Tapejara and a level 40 Monolophosaurus. Afterward, it can be bought from the market for 8,520 DNA.
Cost and Time to Hatch
Availability
Rare
Incubation Period
???
Placement Cost
8,520 DNA
Selling Reward
4,260 DNA
Maximum Earning Rate
351.625 Coins/Minute
Appearance
Edit
Level-Bases Stats
Edit
| Level | Unmodified Earning Rates (12 Hours) | Feeding Costs | Life | Attack |
| --- | --- | --- | --- | --- |
| 1 | 792 | 4,844 | 543 | 170 |
| 2 | 1,583 | 9,598 | 573 | 179 |
| 3 | 2,374 | 14,442 | 603 | 188 |
| 4 | 3,165 | 19,107 | 633 | 198 |
| 5 | 3,956 | 23,950 | 663 | 207 |
| 6 | 4,747 | 28,704 | 693 | 217 |
| 7 | 5,539 | 33,548 | 723 | 226 |
| 8 | 6,330 | 38,213 | 754 | 235 |
| 9 | 7,121 | 43,056 | 784 | 245 |
| 10 | 7,912 | Evolve (00:00:00 @ DNA) | 814 | 254 |
| 11 | | | | |
| 12 | | | | |
| 13 | | | | |
| 14 | | | | |
| 15 | | | | |
| 16 | | | | |
| 17 | | | | |
| 18 | | | | |
| 19 | | | | |
| 20 | | Evolve (00:00:00 @ DNA) | | |
| 21 | | | | |
| 22 | | | | |
| 23 | | | | |
| 24 | | | | |
| 25 | | | | |
| 26 | | | | |
| 27 | | | | |
| 28 | | | | |
| 29 | | | | |
| 30 | | Evolve (00:00:00 @ DNA) | | |
| 31 | | | | |
| 32 | | | | |
| 33 | | | | |
| 34 | | | | |
| 35 | | | | |
| 36 | | | | |
| 37 | | | | |
| 38 | | | | |
| 39 | | | | |
| 40 | 253,170 | MAX | 3,007 | 940 |