This page needs serious attention!
---
This article does not currently meet the standards set at
Park Pedia: The Jurassic Park Wiki. Please feel free to edit it, and pose any
questions you might have on the article's talk page.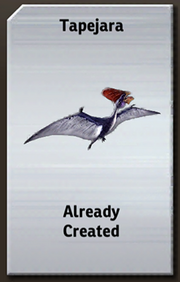 Tapejara is one of the creatures available in the iOS and Android application Builder. It was released for the first time on November 14th 2014. It appears to be based on Tapejara navigans, which is now considered a species of Tupandactylus. Despite being a carnivore and a pterosaur in the game, they get an enclosure without fences like what the herbivores in the game get. Ironically the real animal was likely an herbivore.