Tapejara is a pterosaur in "Jurassic World: The Game".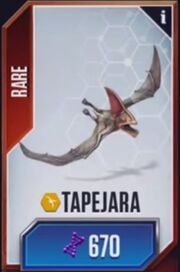 Information
Edit
Tapejara is unlocked by completing Battle Stage 10. Additional individuals can be obtained via card packs or purchased with 670 DNA in the dino market.
A level 40 Tapejara can be fused with a level 40 Monolophosaurus to create the hybrid Tapejalosaurus.
Cost and Time to Hatch
Availability
Rare
Incubation Period
00:30:00
Placement Cost
670 DNA
Additional Information
Tapejara
Appearance
Edit
| | |
| --- | --- |
| Level 1-10 | |
| Level 11-20 | |
| Level 21-30 | |
| Level 31-40 | |
Level-Based Stats
Edit
| Level | Unmodified Earning Rates (3 hrs) | Feeding Costs | Life | Attack |
| --- | --- | --- | --- | --- |
| 2 | 193 | 287 (5x = &,435) | 81 | 25 |
| 3 | 290 | 432 (5x = 2,160) | 86 | 27 |
| 4 | 386 | 571 (5x = 2,855) | 90 | 28 |
| 5 | 483 | 716 (5x = 3,580) | 94 | 29 |
| 6 | 579 | 858 (5x = 4,290) | 99 | 31 |
| 7 | 676 | 1,003 (5x = 5,015) | 103 | 32 |
| 8 | 772 | 1,142 (5x = 5,710) | 107 | 34 |
| 9 | 869 | 1,287 (5x = 6,435) | 111 | 35 |
| 10 | 965 | Evolve (00:30:00 @ 50 DNA) | 116 | 36 |
| 11 | 2,123 | 1,048 (5x = 5,240) | 150 | 47 |
| 12 | 2,316 | 1,142 (5x = 5,710) | 155 | 49 |
| 13 | 2,509 | 1,239 (5x = 6,195) | 161 | 50 |
| 14 | 2,702 | 1,335 (5x = 6,675) | 166 | 52 |
| 15 | 2,895 | 1,432 (5x = 7,160) | 172 | 54 |
| 16 | 3,088 | 1,525 (5x = 7,625) | 177 | 55 |
| 17 | 3,281 | 1,622 (5x = 8,110) | 182 | 57 |
| 18 | 3,474 | 1,716 (5x = 8,580) | 188 | 59 |
| 19 | 3,667 | 1,812 (5x = 9,060) | 193 | 60 |
| 20 | 3,860 | Evolve (01:00:00 @ 60 DNA) | 198 | 62 |
| 30 | | Evolve (02:00:00 @ 70 DNA) | | |
| 40 | 30,874 | Max | 428 | 134 |