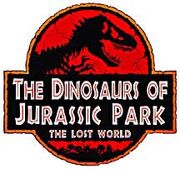 The Dinosaurs of Jurassic Park: The Lost World was a traveling exhibit based on The Lost World: Jurassic Park and the successor to the previous traveling exhibit The Dinosaurs of Jurassic Park. Produced by Dinosaur Exhibitions, LLC under the guidance of Don Lessem,[1] it toured from 1997[2] - 2002 approx.[3]
The exhibit featured sets and props from both Jurassic Park and The Lost World: Jurassic Park[4] as well as storyboards, concept art, and production photos from the latter. Other movie-related material were replicas of the Stan Winston Studio designed dinosaurs, including male and female Velociraptors, the juvenile Junior, the head of the Triceratops that rammed through Peter Ludlow's tent, the juvenile Stegosaurus Claire, Pachycephalosaurus, Dilophosaurus, Brachiosaurus, and several Compsognathus. These dinosaur replicas were created by Research Casting International who created the skeletons seen in the Visitor Center of Jurassic Park.[5] Later in the tour's life span the Stegosaurus was retired because it became damaged in a traffic accident while being transported and collapsed on a worker when it was being assembled.[6] A notable model was a 72 ft long Mamenchisaurus that be placed outside of the museums that housed the tour, which was at the time the largest fleshed out reconstruction of a dinosaur ever built.[7]
The exhbit also featured the replica skeletons of the following dinosaurs: Herrerasaurus, Eoraptor, Coelophysis, Plateosaurus, Dilophosaurus, Bellusaurus, Monolophosaurus, Tuojiangosaurus, a juvenile Allosaurus, a juvenile Camarasaurus, Compsognathus, Giganotosaurus, Tarbosaurus, a juvenile Albertosaurus, Thescelosaurus, and Stegoceras.[8]
From COSI Columbus when the exhbit toured there in 1998.[9]
Notes and references
Edit