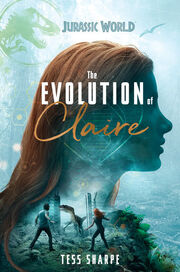 The Evolution of Claire
is a book written by
Tess Sharpe
, released on June 26, 2018.
The book begins as Claire Dearing returns from the Jurassic World Incident, where she has moved back to her hometown at her sister Karen's request. She then reflects on her life before she was hired to work at Jurassic World.
The book then picks up 12 years earlier in 2004 as she and her roommate Regina are packing up to leave college for summer break. As they are reflecting over what happened that year, Karen arrives to drive Claire back to their parents' house.
Species in The Book
Edit
While the Velociraptor on the front cover is a male, the one described in the book is called a female.
While in the film his name is Scott Mitchell, in this book Karen's husband and Zach's father's name is Pete.
Another goof is in the timeline, which states that Claire was 19 in 2004, and Zac was a toddler. Yet the age gap suggests he was 6 years old, and that Gray is supposed to be 2 years old, but Zach is younger and Gray was not born yet in the book.