The Lost World: Jurassic Park is a pinball game designed by John Borg, and released by Sega Pinball. It is based on the film of the same name. It is one of three movie-based pinball games released by Sega Pinball in the late '90s along with Starship Troopers and Godzilla.
The game's goal is to reach San Diego by starting and completing five gameplay modes: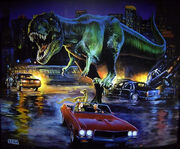 Site B
GPS
Mobile Lab
Raptor Two-Ball
This flyer was used to promote the game, it is two sided, 8.5"x11".
External links
Edit