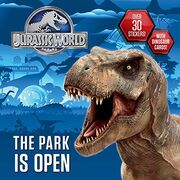 The Park is Open is a paperback sticker storybook featuring the dinosaurs of Jurassic World. The book is produced by Random House and set for release at May 5, 2015. The sticker book is for boys and girls age 3 to 7.
The Park is Open features more than 30 stickers and a cardstock insert.
External links
Edit
Ad blocker interference detected!
Wikia is a free-to-use site that makes money from advertising. We have a modified experience for viewers using ad blockers

Wikia is not accessible if you've made further modifications. Remove the custom ad blocker rule(s) and the page will load as expected.