This page needs serious attention!
---
This article does not currently meet the standards set at
Park Pedia: The Jurassic Park Wiki. Please feel free to edit it, and pose any
questions you might have on the article's talk page.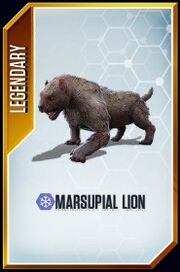 Marsupial Lion makes an appearance as a creatable Cenozoic creature. It is classed as a Snow creature and was added on April 19th, 2017.
Marsupial Lion
Availability
Legendary
Incubation Period
4D:20H
Placement Cost
N/A
Additional Information
Thylacoleo