This page needs serious attention!
---
This article does not currently meet the standards set at
Park Pedia: The Jurassic Park Wiki. Please feel free to edit it, and pose any
questions you might have on the article's talk page.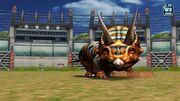 Torosaurus is one of the available dinosaurs in Jurassic Park: Builder. In the mission Surprising Find Alan Grant will ask the player to create a Torosaurus. Alan Grant says he hasn't seen a Torosaurus fossil since his student textbook, so he never thought of seeing one in the park.