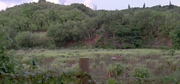 The
Triceratops Paddock
was an enclosure located within Jurassic Park. It featured a herd of
Triceratops
, watched over by an alpha-female nicknamed "
Lady Margaret
". It contained a large open field for adults to graze and socialise, and also a paddocked area most likely used for babies to develop until they could be released into the herd. It was located beside the
Triceratops Maintenance Building
.
Appearances
Gallery
Ad blocker interference detected!
Wikia is a free-to-use site that makes money from advertising. We have a modified experience for viewers using ad blockers

Wikia is not accessible if you've made further modifications. Remove the custom ad blocker rule(s) and the page will load as expected.