This page needs serious attention!
---
This article does not currently meet the standards set at
Park Pedia: The Jurassic Park Wiki. Please feel free to edit it, and pose any
questions you might have on the article's talk page.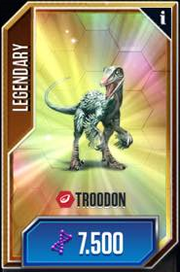 Troodon
was added to the game on January 4, 2016, but is a limited tournament dinosaur. It is a legendary carnivore. Unlike in previous games
Troodon
has appeared in, it is depicted with feathers, most prominently on its arms.