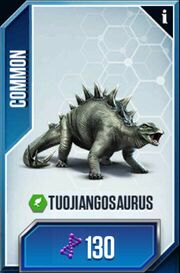 Tuojiangosaurus is a common herbivore in Jurassic World: The Game. It lacks the shoulder spikes of previous games. 
Information
Edit
It is usually unlocked by beating Battle Stage 17. More individuals can be purchased in the market or found through card packs.
Since December 6, 2016, a level 40 Tuojiangosaurus can be fused with a level 40 Nundasuchus  to make the hybrid Nundagosaurus.


Cost and Time to Hatch
Availability
Common
Incubation Period
00:20:00
Placement Cost
130 DNA
Additional Information
Tuojiangosaurus
Appearance
Edit
| | |
| --- | --- |
| Level 1-10 | |
| Level 11-20 | |
| Level 21-30 | |
| Level 31-40 | |
Level-Based Stats
Edit
Level
Unmodified Earning Rates
(6 Hours)
Feeding Costs
Life
Attack
1
55
44 (5x = 220)
42
13
2
109
86 (5x = 430)
45
14
3
164
130 (5x = 650)
47
15
4
218
172 (5x = 860)
49
15
5
273
216 (5x = 1,080)
52
16
6
327
258 (5x = 1,290)
54
17
7
382
302 (5x = 1,510)
56
18
8
436
344 (5x = 1,720)
59
18
9
491
388 (5x = 1,940)
61
19
10
545
Evolve (00:05:00 @ 40 DNA)
64
20
11
1,198
474 (5x = 2,370)
82
26
12
1,307
516 (5x = 2,580)
85
27
13
1,416
560 (5x = 2,800)
88
28
14
1,525
603 (5x = 3,015)
91
28
15
1,634
647 (5x = 3,235)
94
29
16
1,743
689 (5x = 3,445)
97
30
17
1,852
733 (5x = 3,665)
100
31
18
1,961
775 (5x = 3,875)
103
32
19
2,070
818 (5x = 4,090)
106
33
20
2,178
Evolve (00:30:00 @ 50 DNA)
109
34
21
4,574
1,086 (5x = 5,430)
134
42
22
4,792
1,137 (5x = 5,685)
138
43
23
5,010
1,189 (5x = 5,945)
141
44
24
5,228
1,240 (5x = 6,200)
145
45
25
5,445
1,292 (5x = 6,460)
148
46
26
5,663
1,342 (5x = 6,710)
152
47
27
5,881
1,394 (5x = 6,970)
155
49
28
6,099
1,445 (5x = 7,225)
159
50
29
6,317
1,498 (5x = 7,490)
162
51
30
6,534
Evolve (01:00:00 @ 60 DNA)
166
52
31
13,504
1,721 (5x = 8,605)
198
62
32
13,940
1,778 (5x = 8,890)
202
63
33
14,375
1,834 (5x = 9,170)
206
64
34
14,811
1,888 (5x = 9,440)
210
66
35
15,246
1,945 (5x = 9,725)
214
67
36
15,682
1,999 (5x = 9,995)
218
68
37
16,118
2,055 (5x = 10,275)
222
69
38
16,553
2,110 (5x = 10,550)
226
71
39
16,989
2,166 (5x = 10,830)
230
72
40
17,424
Max
235
73