Tyrannosaurus rex is creatable in Jurassic World: The Game as a legendary carnivore.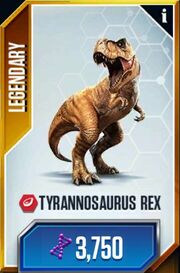 Information
Edit
T. rex is unlocked by completing battle stage 19. Additional individuals can be collected through card packs, by purchasing a VIP membership (one time only), or purchased in the dino market with 3,750 DNA.

A level 40 Tyrannosaurus can be fused with a level 40 Velociraptor to create the hybrid Indominus rex.
Cost and Time to Hatch
Availability
Legendary
Incubation Period
2 days 18 hours
Placement Cost
3,750 DNA
Selling Reward
1,875 DNA
Maximum Earning Rate
204 Gold/Minute
Additional Information
Tyrannosaurus
Appearance
Edit
Unlocked Trivia
Edit
Reward: 2,700 Food
"Did you know that Tyrannosaurus rex translates to 'tyrant lizard king' in ancient Greek and Latin?"
Reward: 22,915 Food
"
Reward: 100 Dino Bucks and 105,000 Food
"
Reward: 100 Dino Bucks, 433,775 Food, and 300 DNA
"
Level-Based Stats
Edit
Level
Unmodified Earning Rates (8 hrs)
Feeding Costs
Life
Attack
1
306
540 (5x = 2,700)
289
110
2
612
1,065 (5x = 5,325)
305
117
3
918
1,605 (5x = 8,025)
321
123
4
1,224
2,130 (5x = 10,650)
337
129
5
1,530
2,670 (5x = 13,350)
354
135
6
1,836
3,195 (5x = 15,975)
370
141
7
2,142
3,735 (5x = 18,675)
386
147
8
2,448
4,260 (5x = 21,300)
402
153
9
2,754
4,800 (5x = 24,000)
418
160
10
3,060
Evolve (02:00:00 @ 70 DNA)
434
166
11
6,732
4,583 (5x = 22,915)
562
215
12
7,344
5,003 (5x = 25,015)
583
223
13
7,956
5,423

(5x = 27,115

)

603
230
14
8,568
5,828

(5x = 29,140

)

623
238
15
9,180
6,240

(5x = 31,200

)

643
246
16
9,792
6,660

(5x = 33,300

)

663
253
17
10,404
7,080

(5x = 35,400

)

683
261
18
11,016
7,493

(5x = 37,465

)

703
269
19
11,628
7,913

(5x = 39,565

)

723
276
20
12,240
Evolve (04:00:00 @ 80 DNA)
743
284
21
25,704
105,000
916
350
22
26,928
109,875
940
359
23
28,152
115,088
964
368
24
29,376
119,925
988
377
25
30,600
125,025
1,012
387
26
31,824
129,938
1,037
396
27
33,048
134,963
1,061
405
28
34,272
139,913
1,085
414
29
35,496
144,938
1,109
424
30
36,720
Evolve (08:00:00 @ 90 DNA)
1133
433
31
75,888
443,775
1,350
516
32
78,336
457,763
1,378
526
33
80,784
472,538
1,406
537
34
83,232
486,600
1,434
548
35
85,680
501,075
1,462
559
36
88,128
515,138
1,491
569
37
90,576
529,688
1,519
580
38
93,024
543,750
1,547
591
39
95,472
558,133
1,575
602
40
97,920
Fuse (04:00:00 @ 500 DNA)
1603
612