Ad blocker interference detected!
Wikia is a free-to-use site that makes money from advertising. We have a modified experience for viewers using ad blockers

Wikia is not accessible if you've made further modifications. Remove the custom ad blocker rule(s) and the page will load as expected.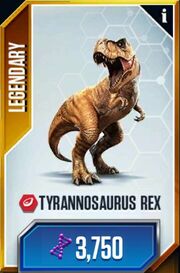 Tyrannosaurus rex is one of the dinosaurs that can be created in Jurassic World: The Game. 
Information
Edit
T. rex is unlocked by beating it in battle stage 19. It can either be free through Legendary card packs or purchased with 3,750 DNA.

Can be fused with Velociraptor to create hybrid Indominus rex.
Cost and Time to Hatch
Availability
Legendary
Incubation Period
2 days 18 hours
Placement Cost
3,750 DNA
Additional Information
[1]
Level-Based Stats
Edit
Level
Unmodified Earning Rates (8 hrs)
Feeding Costs
Life
Attack
1
306
540 (5x = 2,700)
289
110
2
612
1,065 (5x = 5,325)
305
117
3
918
1,605 (5x = 8,025)
321
123
4
1,224
2,130 (5x = 10,650)
337
129
5
1,530
2,670 (5x = 13,350)
354
135
6
1,836
3,195 (5x = 15,975)
370
141
7
2,142
3,735 (5x = 18,675)
386
147
8
2,448
4,260 (5x = 21,300)
402
153
9
2,754
4,800 (5x = 24,000)
418
160
10
3,060
Evolve (02:00:00 @ 70 DNA)
434
166
11
6,732
4,583 (5x = 22,915)
562
215
12
7,344
5,003 (5x = 25,015)
583
223
13
7,956
5,423

(5x = 27,115

)

603
230
14
8,568
5,828

(5x = 29,140

)

623
238
15
9,180
6,240

(5x = 31,200

)

643
246
16
9,792
6,660

(5x = 33,300

)

663
253
17
10,404
7,080

(5x = 35,400

)

683
261
18
11,016
7,493

(5x = 37,465

)

703
269
19
11,628
7,913

(5x = 39,565

)

723
276
20
12,240
Evolve (04:00:00 @ 80 DNA)
743
284
25
30
36,720
Evolve (08:00:00 @ 90 DNA)
1133
433
35
40
97,920
Fuse (04:00:00 @ 500 DNA)
1603
612