Jurassic Park Wikia Member
I am a random guy from Europe. I have a deep interest in natural history and everything mankind is capable of. I study microbiology. Why do I call myself Bastion Monk? It is a very loose translation of my name in English. I like the idea of being a Monk, ruling over an enchanted Bastion containing all knowledge of the universe.
If you want to know more of my personal life and what my face looks like, look at my Facebook page. I'll now continue to tell about me and Jurassic Park.
Me and Jurassic Park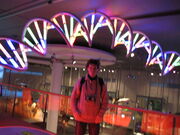 I was into dinosaurs far before I saw Jurassic Park. I liked all stories about what happened on this same world millions of years before we humans are supposed to have existed. JP and its sequel The Lost World: Jurassic Park were the only dinosaur movies with decent graphics, so I watched them over and over again.
But then came Walking with Dinosaurs. As a medium to learn more about dinosaurs it was better by far than Jurassic Park. Alright the graphics were not as good as Jurassic Park, and it didn't have an exiting plot with dinosaurs chasing humans. But the graphics are improved and Nigel Marven is now chased by dinosaurs, Megalodons and everything a fan of Prehistory can dream of. When Jurassic Park III came out, I saw it one time in the cinema and that was it.
It was only years later, that I saw this video on youtube: Jurassic Park: Trespasser.
This video changed everything. I became fascinated with the concept that is so unique of Jurassic Park: Recreating extinct animals! It showed the power of genomics and cell biology. Maybe I study cell biology because I saw Jurassic Park. I hope we will once be able to bring the Dinosaurs back to life; I will do it if I can.
After that I've become interested it the story itself again and what it did for so many people. On March3, 2009 I started to edit on this Wiki. And now I've made more than 1000 edits and I've become the Bureaucrat of this Wiki. How can only one video do such thing to people.
Opinions about Jurassic Park
I think User_blog:MismeretMonk/Jurassic_Park_is_overrated. It was a fantastic phenomena in the early 90s, no doubt about that. However, I strongly think that as a franchise the producers of Jurassic Park have done a terrible job. Most Jurassic Park games, comics and collectables utterly suck. See my What we want and what we get post.
I think that Terra Nova and Primeval had better overall stories and better franchise management. I think that in these days Jurassic Park is only popular because it is popular.
In the future there will be dinosaurs:
I think Jurassic Park IV is a bad idea, it is better to remake Jurassic Park:
I think Universal should complete the story of the first trilogy with these two games: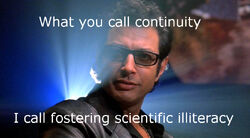 I think that Jurassic Park films should be as scientifically accurate. Michael Crichton wasn't afraid to sacrifice continuity for accuracy, and neither should the film makers.

Running this wiki
In 2009 I found this wiki and it was deserted. So, I became head admin (without me wanting that). For three years I have spend hours and hours undoing edits like this.
I hoped this site would attract other JP fans like me. I would find a lot of "online friends" and together we would build a good Jurassic Park database. But this place kept really quite. The vandals and trolls totally outnumbered the few serious editors. Someone told me to start a facebook and youtube account. I started both. Almost no change.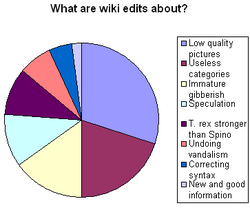 I am 3 years later now. This place is still a ghost town. I'm still spending 75% of my wiki time on removing spam. I am the only used who add sources to claims I make. When Jurassic Park: The Game was released, I was the only user on this wiki actually playing it. I had to scan and upload the InGen Field Guide and all other stuff because NO ONE ELSE owned this stuff. The same thing happens in all other area's of editing.
Furthermore I doubt if creating quality material on this wiki is useful. Let me give you an example. I had put a hell lot of work in the Jurassic Park (novel) article. I had created the "writing" section. It contained all information I could find about why, how and when Michael Crichton wrote the novel that started the franchise. Suddenly someone removed it all. All that remained were the Plot, Character and Dinosaur sections. No-one reverted that edit. People only endlessly messed around with the list of dinosaurs. The fact that someone can remove all that content and nobody missed that section proves to me that most of all people who edit and read this wiki are all idiots who only care about blood and killing raptors and are too stupid to value background material. Now that I know this, should I care to write a background section for The Lost World (novel)???
I was glad when Alfred Hammond became the new Bureaucrat on this wiki. Now I can take thing slow.
Want to take over?
A lot of single-edit users complained that this wiki isn't managed properly. If you truly care about that, then you should improve this wiki.
If you want to be an administrator:
Stay active for at least a month
Make 500 constructive edits
If you want to become a bureaucrat:
Make 1000 constructive edits
Promise to stay active for at least a year once you're a bureaucrat
Promise to be active when there are no other active admins
Links