I signed up for RaptorPass as soon a I saw the option on JurassicWorld.com. They promised that I would be notified about any new material on JW's site and exclusive news. Today I got my first message (see picture).
They notified me about the 4 new dinosaurs on the website. Judging from the recent edits, most of you have figured that out by now.
They also write that the Jurassic World team has a new member: Brian Switek.
"Please welcome Brian Switek, JurassicWorld.com's resident paleontologist. Through his expert knowledge and guidance, Brian has been a big source of inspiration for us. As a professional science writer with expertise in paleontology, Brian helps make improvements to the park and the website every day to continually educate and entertain our guests. Brain has helped us introduce 5 new dinosaurs to the park just in time for the holiday season!"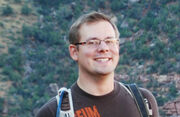 Brian Switek is a freelance science writer and author of the critically acclaimed books Written in Stone (2010) and My Beloved Brontosaurus (2013). He has published in Slate, Nature, the Wall Street Journal, Smithsonian, Scientific American, and more.

Well, I hope Brian Switek will add interesting and entertaining dinosaur information to JW's website. I hope they will also hire someone with expertise in cell biology and genetics.
I wonder what other stuff will be revealed solely to the RaptorPass members.