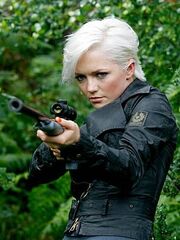 Hello everyone, I just edited the article of Deborah Holland. Chief of Security at Isla Sorna's Ranger Station. She's a minor but interesting character in the JP franchise.
If Deborah Holland appears in Jurassic Park IV, I think she should be played by Hannah Spearritt. She portrayed Abby in the Primeval series. Just see how the description matches:
"Deborah Holland had honey-blond hair, a warm, glowing smile, and the sweetest temperament of anyone with whom Alan had ever worked. She was almost thirty, but she looked like she was still in college."
But still she is skilled in combat and fights dinosaurs.