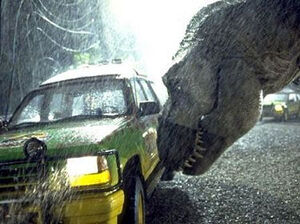 Are you ready for another terror trip to Isla Nublar?
Well, Steven Spielberg certainly hopes so. The director of the first two films in the Jurassic Park franchise and Executive Producer of the third, has begun creative development discussions on a fourth installment, according to Universal Studios.
The studio stressed the meetings are purely exploratory and involved Spielberg and screenwriter Mark Protosevich, who first collaborated on the planned remake of Oldboy (which ultimately stalled due to rights issues).
At first glance, the announcement comes as as bit of a surprise given that the third film from 2001 was received poorly by both the critics and moviegoers. The modern day dinos appeared extinct once more. But given the rise of 3-D, a remake or even a prequel (which is certainly a popular route for stalled franchises) could make sense. 3-D films have been hit or miss lately, but Jurassic Park is obviously a special effects friendly franchise and would seem a natural fit for the technology.
It's doubtful Spielberg would direct it, but as Super 8 has shown, often just having him tinkering with a film's DNA is enough to bring something to life.
Source: pastemagazine.