Uses CGI stand-ins from JP1 and the D-rex CGI isn't finished, but the Mosasaur one is! http://iconosquare.com/kenbarbforever
Photo of the Mosasaur: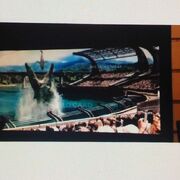 UPDATE: Leaked clips have been removed. 
UPDATE 2: I've just been sent some pictures from a FOURTH leaked video! One with an overturned gyrosphere, and 2 others involving Pteranodons attacking a helicopter. Seems like we're getting the Ptero Attack from the scrapped finale of TLW!
Ad blocker interference detected!
Wikia is a free-to-use site that makes money from advertising. We have a modified experience for viewers using ad blockers

Wikia is not accessible if you've made further modifications. Remove the custom ad blocker rule(s) and the page will load as expected.