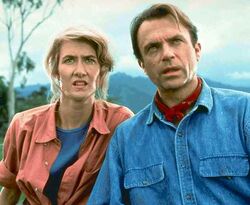 Despite distressing rumblings from the Twittersphere and elsewhere that the upcoming
Jurassic Park
sequel was all but doomed, new information has surfaced that should put wary Jurassic Park fans at ease. A source directly associated with the project reached out to fansite JurassicPark4-movie.com, with
news
that the film is still in production, but on temporary hiatus following an emotional "rollercoaster" spurred by deliberation between the studio and certain individuals involved with the project. While there have been layoffs, the source confirms that those affected had already completed their work for the film.
The source also silenced rumors that JP4's script was at the center of the quagmire, reiterating that the only known problems have to do with the film's "developmental core." It isn't apparent whether or not the film will make its planned June 13, 2014 release, but a delayed movie is always better than no movie at all. The aforementioned source claims "JP4 "will deliver on an EPIC scale."
Colin Treverrow, director of last year's acclaimed Safety Not Guarenteed, is still slated to direct.
Relive a classic moment from the first film below:

---
---