I was thinking for a habitat for dinosaurs if cloned from fossils.They use chemical to get it back to organic.And areas they could use as habitats were areas with forests in each region.Dinosaurs could flurish and live there with fields to keep them in area and manmade barriers.New Jurassic park.Jurassic Peel Region and use its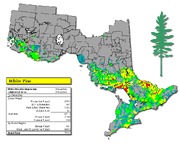 farm and forests.Jurassic Ontario.Many areeas in Ontario where dinosaur fossils are underground and escavated by highway crews and building makers,housing and development stumble onto fossils.They dig deep and there are natural areas of water to the dinosaurs.Lots of vegatation for the planteaters.No one is using any of it.Lots of creeks and rivers,bodies of water.Weather is excellent and hot in summer.they get a blast of heat wave summer to last them winter cold subarctic weather.Thick armor could keep out the cold and if they eat diet like a zoo drugs stimulate their blood and make shelters they can walk in like a den.Visit them by helicopters.Many areas off Great lakes.Make facility to study them and make them towering and higher with train tunnels.Tunnels concrete.We could make large parks from network of Parks.We would have major sectors of parks and film in summer.Dinosaurs would love the humidity.Small animals like cryptozoological cougar.Supplies on the highway and by train and lifted by air.Flourishing park.And large like one with trees of all sorts.Imagine dinosaurs walking in the woods.Guided by natural barriers and manmade ones.Build zoo like shelter areas and barns for dinosaurs,stables.Frequencies to guide the dinosaurs.Area along the Lake Ontario from Durham Region to Kingston ON.Long drive and lots of places for dinosaurs,just to build it like a giant zoo proper fences and barriers.Land creatures Jurassic.Masonry to build towers for watching the dinosaurs.Masonry to build observation and labs.Ultimate Jurassic Parks addition.Weather is perfect.Getting dinosaurs to adjust to winter many fact put together by scientists.And in North America.Fish and prey for dinosaurs,deer.Modern network to civilization.Untouched at this level.Nature in city areas.Getting around fast.Woodsmen.Rangers.Scientists.Bodies of water.Build the labs and towers.    
http://www.library.carleton.ca/find/maps/online-maps/title
http://www.grouptravelplanner.net/regions/region-119-ontario/sub-108-central-ontario/trail-106-georgian-bay/
Ad blocker interference detected!
Wikia is a free-to-use site that makes money from advertising. We have a modified experience for viewers using ad blockers

Wikia is not accessible if you've made further modifications. Remove the custom ad blocker rule(s) and the page will load as expected.