Ad blocker interference detected!
Wikia is a free-to-use site that makes money from advertising. We have a modified experience for viewers using ad blockers

Wikia is not accessible if you've made further modifications. Remove the custom ad blocker rule(s) and the page will load as expected.
Velocirapteryx



Name meaning

""Speedy Thieving Wing""

Hybrid of:

Diet

Carnivore

Length

16 ft.

Weight

1.5 tons

Toy appearances

Template Source
Velocirapteryx is a hybrid dinosaur created for the Chaos Effect line. It is a cross between Velociraptor and Archaeopteryx
The Velocirapteryx was bred for mobility and ferocity. A raptor's razor claws, jagged spines and the flight capability of the Archaeopteryx combine to make it one of the most dangerous of the genetically altered dinosaurs. Highly intelligent and clever, it usually stalks its prey in packs and has been known to hunt for sport.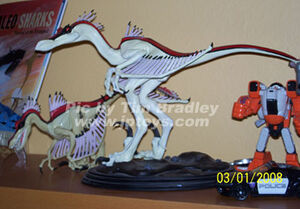 It coincidentally shares a similar design to the accurate feathered depictions of Velociraptor in real life.
Reception
Edit
This was probably one of the most recognized, and popular dinosaurs of the Chaos Effect line.