Velociraptor is creatable in Jurassic World: The Game as a super rare carnivore.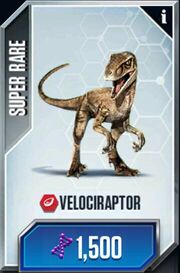 Information
Edit
It is unlocked by completing battle stage 23. More individuals can be purchased in the market for 1,500 DNA or found through card packs.
A level 40 Velociraptor can be fused with a level 40 Tyrannosaurus rex to create the hybrid Indominus rex.
Cost and Time to Hatch
Availability
Super Rare
Incubation Period
11:10:00
Placement Cost
1,500 DNA
Selling Reward
750 DNA
Maximum Earning Rate
316.8 Gold/Minute
Additional Information
Velociraptor
Appearance
Edit
Unlocked Trivia
Edit
Reward: 1,620 Food
"Meaning 'swift seizer', the Velociraptor is a well-known dinosaur. In fact, they're often reffered to simply as 'raptors'."
Reward: 10,575 Food
"InGen's Velociraptor clones differ vastly from the originals. They are much larger and featherless."
Reward: 40 DIno Bucks and 48,465 Food
"Did you know that the extinct Velociraptor would have only weighed 30 pounds and stood at 3 feet tall?!"
Reward: 100 Dino Bucks, 204,775 Food and 120 DNA
"At six feet tall, Ingen's creations are highly intellegent and deadly, with 6 inch retractable claws!"
Level-Based Stats
Edit
| Level | Unmodified Earning Rates (2 Hours) | Feeding Costs | Life | Attack |
| --- | --- | --- | --- | --- |
| 1 | 119 | 324 (5x = 1,620) | 144 | 55 |
| 2 | 238 | 639 (5x = 3,195) | 152 | 58 |
| 3 | 357 | 963 (5x = 4,815) | 160 | 61 |
| 4 | 476 | 1,278 (5x = 6,390) | 168 | 64 |
| 5 | 594 | 1,602 (5x = 8,010) | 176 | 67 |
| 6 | 713 | 1,917 (5x = 9,585) | 184 | 70 |
| 7 | 832 | 2,241 (5x = 11,205) | 192 | 74 |
| 8 | 951 | 2,556 (5x = 12,780) | 200 | 77 |
| 9 | 1,070 | 2,880 (5x = 14,400) | 208 | 80 |
| 10 | 1,188 | Evolve (01:00:00 @ 60 DNA) | 217 | 83 |
| 11 | 2,614 | 2,115 (5x = 10,575) | 281 | 107 |
| 12 | 2,852 | 2,309 (5x = 11,545) | 291 | 111 |
| 13 | 3,089 | 2,502 (5x = 12,510) | 301 | 115 |
| 14 | 3,327 | 2,687 (5x = 13,435) | 311 | 119 |
| 15 | 3,564 | 2,880 (5x = 14,400) | 321 | 123 |
| 16 | 3,802 | 3,074 (5x = 15,370) | 331 | 126 |
| 17 | 4,040 | 3,267 (5x = 16,335) | 341 | 130 |
| 18 | 4,277 | 3,456 (5x = 17,280) | 351 | 134 |
| 19 | 4,515 | 3,650 (5x = 18,250) | 361 | 138 |
| 20 | 4,752 | Evolve (02:00:00 @ 70 DNA) | 371 | 142 |
| 21 | 9,980 | 4,842 (5x = 24,210) | 457 | 175 |
| 22 | 10,455 | 5,067 (5x = 25,335) | 469 | 179 |
| 23 | 10,930 | 5,306 (5x = 26,530) | 481 | 184 |
| 24 | 11,405 | 5,531 (5x = 27,655) | 493 | 188 |
| 25 | 11,880 | 5,765 (5x = 28,825) | 505 | 193 |
| 26 | 12,356 | 5,990 (5x = 29,950) | 517 | 198 |
| 27 | 12,831 | 6,224 (5x = 31,120) | 529 | 202 |
| 28 | 13,306 | 6,453 (5x = 32,265) | 541 | 207 |
| 29 | 13,781 | 6,683 (5x = 33,415) | 553 | 211 |
| 30 | 14,256 | Evolve (04:00:00 @ 80 DNA) | 565 | 216 |
| 31 | 29,463 | 204,773 | 674 | 257 |
| 32 | 30,413 | 211,298 | 688 | 263 |
| 33 | 31,364 | 218,070 | 702 | 268 |
| 34 | 32,314 | 224,528 | 716 | 273 |
| 35 | 33,264 | 231,255 | 730 | 279 |
| 36 | 34,215 | 237,735 | 744 | 284 |
| 37 | 35,165 | 244,418 | 758 | 289 |
| 38 | 36,116 | 250,920 | 772 | 295 |
| 39 | 37,066 | 257,603 | 786 | 300 |
| 40 | 38,016 | Fuse (04:00:00 @ 500 DNA) | 800 | 306 |