Xiphactinus

Xiphactinus card in Jurassic Park: Builder

Name meaning

"sword-ray"

Diet

Pisivore/Carnivore

Length

4.5 to 6 meters (15 to 20 feet)

Weight

226.8-362.9 kgs (500-800 lbs)

Range

Kansas, Alabama, Georgia, Europe, Australia, Canada and Venezuela

Birth type

Egg

Movie canon appearances

Jurassic Park: The Game (concept art only)

Game appearances

Template Source
Xiphactinus was a large fish that lived in the Late Cretaceous period. It was a predatory fish that could reach lengths of up to 20 feet long.
| | |
| --- | --- |
| | Wikipedia has a more detailed and comprehensive article on Xiphactinus |
Xiphactinus is a limited edition creature in the Aquatic Park section of Jurassic Park: Builder.
Xiphactinus was added to the game as a creatable aquatic animal on the March 16, 2016 update.
Behind the scenes
Edit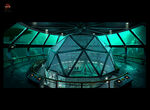 In concept art for Jurassic Park: The Game, a Xiphactinus skeleton was to be on display inside the Marine Facility's rotunda, but it is absent from the finished game.